木材切断用コバルトクロム合金ステライト合金のこぎり歯
ブランド: Cobalt Chrome Alloy
製品の産地: 中国
納入時間: 20日以内
供給能力: 100万/月
ステライトコバルトクロム合金
木材切断用コバルトクロム合金ステライト合金のこぎり歯
コバルトクロム合金はまた、レッドシダーのようないくつかの木材に見られる研磨酸に対してより耐性があります。
Microsoft YaHei
Microsoft YaHei
フランス、ニュージーランド、オーストラリア、ノルウェー、ロシアなど、40を超える国と地域。
どのサイズを提供しますか?
Microsoft YaHei
お客様の図面やご要望に応じて、のこぎりチップを製造いたします。長方形、三角形、特殊な形状の鋸チップを製造できます。また、米国標準およびヨーロッパ標準の鋸チップを製造することもできます。
Microsoft YaHei

丸鋸と帯鋸の歯を溶接して木材を切断する

Microsoft YaHei

お問い合わせ内容をお送りください。

Microsoft YaHei

44-49HRC

Density :

8.5g/cm ³

Size :

Triangle , rectangle and profiled ,

customized-made is also available

Properties :

Wear and corrosion resistance

Application :

Cobalt Chrome Alloy is also more resistant to the abrasive acids found in some woods like red cedar.

Instructions :

The Cobalt Chrome Alloy Tipped saws, have a tip welded directly to the saw tooth

Usage :

Welding on Circular saw and Band saws teeth to cut woods

Tolerance control :

Surface polishing and tolerance ±0.003"/±0.005" (±0.0762/±0.127mm )

Production lead time

Samples 7 days , normal order 10-25 days

Production capacity :

1000,000pcs one month.

Package :

1000pcs in 1 plastic bag and put in 1 plastic keg
Cobalt Chrome Alloy tipped saws have shown to be able to:
•Increase run times.
•Cut with thinner kerf.
•Produce a smoother sawn surface.
•Reduce sawing variations - Better cutting accuracy. (allowing for tighter target sizes)
•Reduce the power consumption during cutting.
•Reduce the cutting downtime for saw changes and saw maintenance.
•Increased saw life due to the ability to achieve more sharpening and at longer intervals.
Cobalt Chrome Alloy is also more resistant to the abrasive acids found in some woods like red cedar.
This allows the tips to stay sharp longer than carbide tips and significantly longer
than swaged saw steel when cutting unseasoned woods.
We have produced more than 100 kinds of specifications tips and export to Canada, USA,
France, New Zealand, Australia, Norway and Russia etc. more than 40 countries and areas.
Which size do you supply ?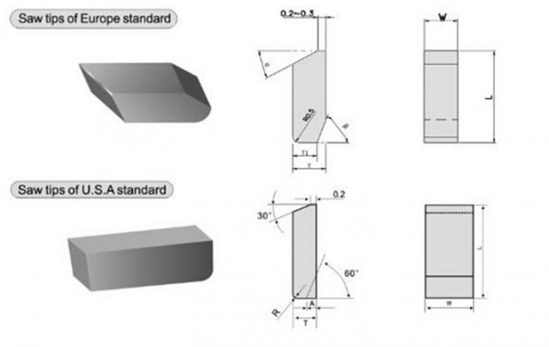 We can manufacture Saw tips according to your drawings and demands. We can produce rectangular, triangle, specical-shaped saw tips .and we also can manufacture saw tips of U.S.A. standard and Europe standard
Application:
Welding on Circular saw and Band saws teeth to cut woods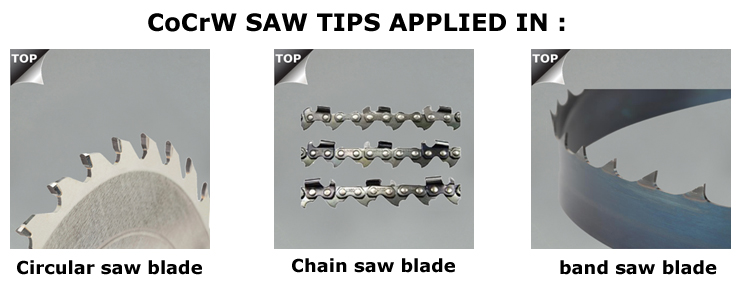 Send your inquiry details to us for free samples and best price now !
Microsoft YaHei